Share: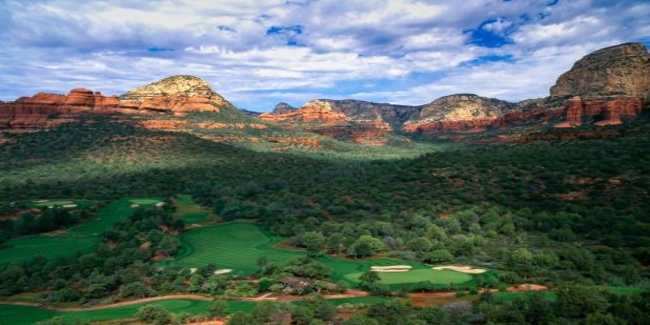 Seven Canyons Golf and Enchantment Resort
By Larry Berle
Seven Canyons in Sedona AZ, just 100 miles north of Phoenix was built in 2003 when golf course developments were booming. It is completely surrounded by 100,000 acres of Coconino National Forest and Red Rock Secret Mountain Wilderness. It is a good golf course neatly squeezed into a jaw dropping setting. If you are looking for Arizona desert golf, then head back to Phoenix because here you are among the Red Rocks, Canyon Walls, Chaparral and Pondorosa Pines and water falls. How a private real estate development came to be inside of a National Forest is a good question that I don't have an answer to.

Brad Klein of Golf Week described it as playing golf at the bottom of the Grand Canyon and also called it the IMAX of golf. Now there are two great images for you to ponder. If you don't like those try 360 degrees of breathtaking beauty

We are at 4600 feet above sea level, well above Phoenix, but that will vary today as there is over 300 feet of elevation change here at Seven Canyons. And be sure to bring your greatest concentration because its easy to be completely distracted by the beautiful red rocks landscape where you are spending your day. Oh yeah! I almost forgot I have to hit another golf shot.

The 175 foot drop from the tee to the par 3 fourth green not only confounds you about what club to select but makes you think they should just provide a zipline down to the green.

Often in cases like this, one might say words cant describe it I am doing my best here but clicking on this flyover may show you why its so hard to describe check out http://www.sevencanyons.com/golf/3d-course-flyover/.

In 2003 it was developed as a private club with luxurious fractional share villas to be sold.
But the recession hit and it fell on hard times. Now homes are being built again and a brand new clubhouse will open in April of this year. Enchantment Resort recently took over management of the club. The service here was terrific and the course was in wonderful shape. The scenery on the driving range alone makes you want to stay and hit just a few more practice shots.
Enchantment Resort

While there are still private club members, you can play here if you are staying at Enchantment Resort. And believe me staying here isn't exactly tough duty. Its Five star luxury all the way in an awesome setting. I don't think there is anything else quite like it in Sedona. It stands at the doorway to Boynton Canyon and every view is its own inspiration.

The food is wonderful, there are plenty of spa services and the service is impeccable. We are in a Casita Jr suite and tomorrow morning we will get up and participate in morning yoga. We told some friends in Phoenix we were coming here. They used to live in Sedona. They told us the biggest factor in their decision to move to Sedona was staying at Enchantment its just drop dead gorgeous.

If you go:
525 Boynton Canyon Rd
Sedona AZ86336
928-282-2900
www.enchantmentresort.com
Call for rates as they vary with the season



Revised: 02/17/2015 - Article Viewed 22,043 Times - View Golf Course Profile
About: Larry Berle
---

A Golfer's Dream is Larry Berle's first book. In his previous career, Larry owned SRO Productions in Minneapolis, Minnesota; a company specialized in concert promotion, event management, and CD compilations for radio stations. He worked with many artists, including Andy Williams, Tony Bennett, George Winston, Yanni, B.B. King, James Taylor, Bill Cosby, and Sinbad. After 31 years in the business, Larry sold SRO in 2004. He still produces small theatrical plays occasionally but spends most of his time playing, and writing about, golf.

Larry was introduced to the game by his wife Annie in 1990 and has been an avid fan and player ever since. Annie took him to Pebble Beach for his birthday in 1992 where the dream to play the Golf Digest Top 100 was born. What is truly amazing about Larry Berle is not only that he achieved his quest but also that he published this book. In June of 2006, with 90 percent of the first draft completed, he suffered near-fatal injuries as a result of a bicycle accident in Minneapolis. He lay in a coma for nearly two weeks and was hospitalized for two months. Larry not only survived but made a full recovery and regained his fabled drive and ability to concentrate. After months of therapy, he was able to complete and publish A Golfer's Dream, a testament to his remarkable achievements in golf and in life. A slightly above-average golfer (handicap index of 11.9), Larry has no handicap in networking and is not afraid to ask for help, especially when it comes to playing Top 100 golf courses.

---
More Articles by Larry Berle