Share: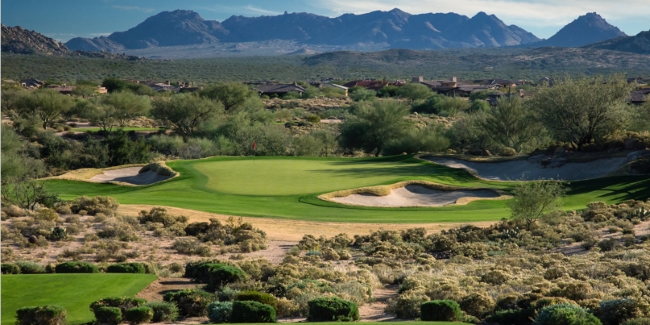 The Mirabel Golf Club Review
By Larry Berle
Mirabel, in North Scottsdale, AZ is big in every sense. From the clubhouse to the service, to the golf course, Mirabel comes up large. The clubhouse is ultra comfortable, perfect for before and after, and the staff leaves no stone unturned to make sure you're happy. The practice area has extensive targets and the practice balls are Titelist Pro v1's but the fun really begins on the first tee.

Tom Fazio, Mirabel's designer, has more golf courses on the Top 100 than any living golf course architect. Mirabel is one of his Arizona masterpieces7141 yards of glorious golf that displays all of Fazio's trademark design elements, all big.

It begins with the fairways. Fazio is known for creating generous landing areas and he does not disappoint here at Mirabel. The fairways are wide60 yards and more at the par four 15th, and more than ample elsewhere.
Large landing areas leaves plenty of room for undulation so good luck getting a flat lie. You know you ought to hit them, and Fazio thinks you should too. That is why he lined them with vast bunkers that you may dream aboutor have nightmares about depending on how your day goes.

And then there are the greens, where big becomes really big. Fifty to seventy-five foot putts are almost always a possibility, and they are complicated by ridges and more subtle rolls that can make two putts a real challenge. The greens are running at 10.5 on the stimpmeter today but as the Assistant Golf Pro pointed out. "Pay attention to where Phoenix is on all your putts. If you are putting down valley 10.5 may become 12.5 and if you are putting up valley, it may become 8.

But don't worrybig fairways, big traps and big greens add up to a very playable course, especially if you choose the right tees. You can hit most of the fairways, you can get your second shots into the vicinity of most of the greens. Getting in the hole from there is where the real fun is. These greens are fiercely guarded and they all have more than enough movement in them to keep your full attention. Polish up your short game and you'll have a lot of success. This type of design is one of Fazios strengths, fun for the Sunday golfer and a challenge for the single digit handicapper.

If you came for the views, then you have come to the right place. We are at 3,000 feet above sea level with expansive views of the valley below.

Take number three tee box for example we can see all the way to downtown Phoenix and even to Univ of Phoenix stadium, where the Superbowl was played yesterday.

If that view isn't expansive enough the tee box at number six should be, as it is the highest on the course.

Number eight may be the largest green on the course so club selection is critical here. The green is deep enough that the club selection could vary by as many as four. But alas on most days you will encounter the club chef at the grill as you leave this green to present you with one of his tasty treats. If that doesn't satisfy your appetite then stop at one of the two comfort stations which are like refreshment stands on steroids, with every drink imaginable, cheese and crackers, ice cream bars, hard boiled eggs, fruit, freshly baked cookies, all complimentary .As one of the staff members told us " put some in a bag and take it home, everyone else does."

On number ten we finally see water in play and it will be the first and last time that we see that today.

Mirable is member owned and operated and appears to be on solid financial footing these days. They have reduced the maximum membership from 350 to 275. In the past you had to own property to be a member here, but that is no longer the case.
If having friends from all over the US is your goal, Mirabel may be the place for you. Members here hail from well over half of the states in the US. Monthly dues are $1350 and the initiation fee varies
If you are interested to take a test drive, go to www.mirabel.com and click on learn more for a tour


If you go:

37100 N. Mirabel Club Drive
Scottsdale, AZ 85262
Phone: 480-437-1500
www.mirabel.com
Par 70
6746 yards from the tips

Revised: 03/03/2015 - Article Viewed 24,538 Times - View Golf Course Profile
About: Larry Berle
---

A Golfer's Dream is Larry Berle's first book. In his previous career, Larry owned SRO Productions in Minneapolis, Minnesota; a company specialized in concert promotion, event management, and CD compilations for radio stations. He worked with many artists, including Andy Williams, Tony Bennett, George Winston, Yanni, B.B. King, James Taylor, Bill Cosby, and Sinbad. After 31 years in the business, Larry sold SRO in 2004. He still produces small theatrical plays occasionally but spends most of his time playing, and writing about, golf.

Larry was introduced to the game by his wife Annie in 1990 and has been an avid fan and player ever since. Annie took him to Pebble Beach for his birthday in 1992 where the dream to play the Golf Digest Top 100 was born. What is truly amazing about Larry Berle is not only that he achieved his quest but also that he published this book. In June of 2006, with 90 percent of the first draft completed, he suffered near-fatal injuries as a result of a bicycle accident in Minneapolis. He lay in a coma for nearly two weeks and was hospitalized for two months. Larry not only survived but made a full recovery and regained his fabled drive and ability to concentrate. After months of therapy, he was able to complete and publish A Golfer's Dream, a testament to his remarkable achievements in golf and in life. A slightly above-average golfer (handicap index of 11.9), Larry has no handicap in networking and is not afraid to ask for help, especially when it comes to playing Top 100 golf courses.

---
More Articles by Larry Berle