Share:
---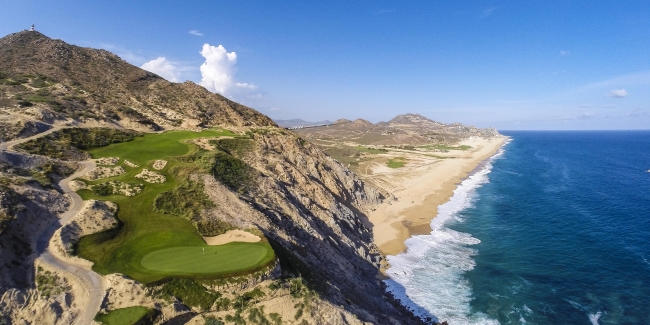 Travel Spotlight: Quivira Golf Club - Cabo St Lucas Mexico
Come for the Golf and be Awed by the Views
By Larry Berle
I am staying at the Pueblo Bonito Oceanfront Resort and Spa, and tomorrow morning I am going to get up early to watch the sun peak its head over the Sea of Cortez and provide me with a spectacular sunrise from my balcony. This particular hotel is adults only but several others on the property cater to families, the closest being Pueblo Bonito Sunset Beach Golf & Spa Resort, which has villas from 1-4 bedrooms. So bring your family or your foursome of buddies.

The golf course here is Quivira, and there are not many pieces of land that have such spectacular potential.Jack Nicklaus must have been thrilled when he was asked to plan a golf course here. This par 72 plays 7139 yards from the tips but there are 5 sets of tees all the way down to 4793 yards which should make it fun for the whole family.

The Pacific Ocean meets the sea of Cortez at lands end of Cabo St Lucas, which is a spectacular location for a golf course. Ernesto Coppel, figured golfers would love to spend 4 hours here, playing golf and just absorbing these endless views, so he hired Jack Nicklaus to put a golf course here. And if that wasn't enough, he accompanied it with a very luxurious resort so dad could bring his entire family to enjoy a vacation here at Lands end.

The first 4 holes have generous fairways and are very welcoming. Number five may be one of the most interesting and confounding holes you will ever play... Just ask yourself how can a 310 yard hole from the tips be the #1 handicap and you will get the idea. We rode over 1/2 mile up the steep mountainside to the tee box which is perched on a cliff nearly 300 feet above the Pacific. The hole winds around and falls away to the green which is similarly perched on that same cliff. All I can say is wow!! The par three number six sits on that same cliff but its route is much clearer. If spectacular is what you are looking for, you have come to the right place.

It seems as though you can see the ocean from every hole. 9-12 lets up a bit on your sensory overload. Then comes number thirteen, a short 148 yard par three from the tips that may be as spectacular and 5 and 6, with a postage stamp green perched on a spectacular rock outcropping. Just remember, you came here to play golf, not to gawk at the scenery. Fourteen through seventeen are visually stunning as well, especially number 16 which has an awesome tee shot from over 100 feet above the fairway. You will get hang time that would make an NFL punter proud.

When asked about this property Jack Nicklaus said "The sand dunes of the rolling desert foothills and gusts of wind from the Pacific Ocean are natural hazards. And the vivid colors and contours of the granite cliffs should challenge and awe golfers."

Then its time for the 19th hole at the clubhouse which sits right on the ocean shore. Its so inviting, you may want to stay till night fall.

Did I mention the comfort stations? Four in all, along the way with complimentary food and beverage that will surely cause you to pause at each one. To truly appreciate what this course has to offer you are most certainly going to have a round of golf longer than 4 hours. But its worth it

More Information:
www.quiviragolfclub.com
www.pueblobonito.com/

Revised: 04/21/2015 - Article Viewed 20,898 Times
Share Comment
Written By: Larry Berle

A Golfer's Dream is Larry Berle's first book. In his previous career, Larry owned SRO Productions in Minneapolis, Minnesota; a company specialized in concert promotion, event management, and CD compilations for radio stations. He worked with many artists, including Andy Williams, Tony Bennett, George Winston, Yanni, B.B. King, James Taylor, Bill Cosby, and Sinbad. After 31 years in the business, Larry sold SRO in 2004. He still produces small theatrical plays occasionally but spends most of his time playing, and writing about, golf.

Larry was introduced to the game by his wife Annie in 1990 and has been an avid fan and player ever since. Annie took him to Pebble Beach for his birthday in 1992 where the dream to play the Golf Digest Top 100 was born. What is truly amazing about Larry Berle is not only that he achieved his quest but also that he published this book. In June of 2006, with 90 percent of the first draft completed, he suffered near-fatal injuries as a result of a bicycle accident in Minneapolis. He lay in a coma for nearly two weeks and was hospitalized for two months. Larry not only survived but made a full recovery and regained his fabled drive and ability to concentrate. After months of therapy, he was able to complete and publish A Golfer's Dream, a testament to his remarkable achievements in golf and in life. A slightly above-average golfer (handicap index of 11.9), Larry has no handicap in networking and is not afraid to ask for help, especially when it comes to playing Top 100 golf courses.