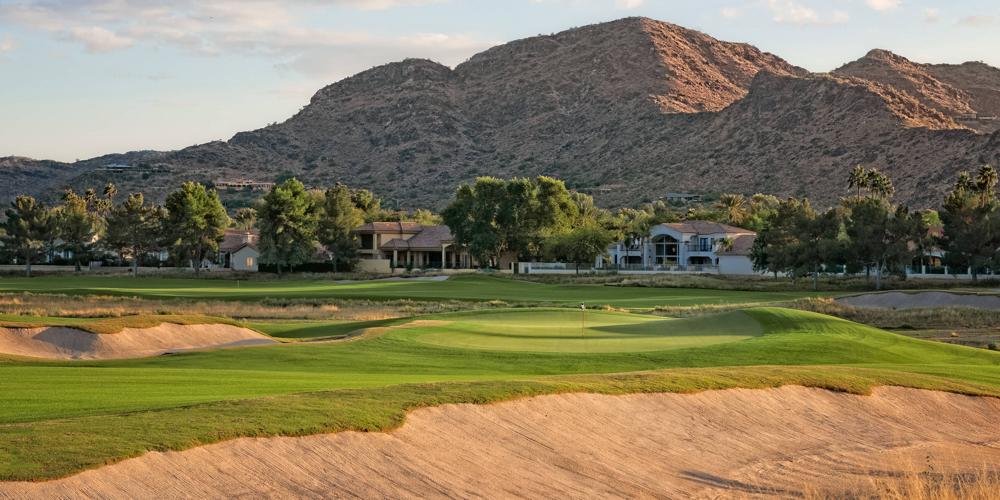 Padre Course at Camelback Golf Club
By Larry Berle
There are two golf courses at Camelback Golf Club and the older of the two is the Padre, designed in 1999 by Arthur HIlls. Unlike its companion course, El Ambiente, Padre is basically a parkland course with minimal desertscape, framed by towering trees and the lovely mansions of Paradise Valley. If you are new to Arizona golf or are looking for a course with a plenty of grass, this is a perfect place to play. It's not far from the airport and it will feel familiar, more like the parkland courses of the east and Midwest than a true desert layout. Just don't make the mistake of thinking that familiar equals easy.

Padre is about as flat as a course can get. The fairways were in great shape and very firm, so you get lots of roll (which short hitters, like me, find helpful), but that roll may land you in a fairway trap-there are quite a few in play. The greens are very firm too. They will hold a well-struck, well-placed shot, with the emphasis on well placed. Shots on the edges of some greens will end up in collection areas, or water hazards. Did I mention that water comes into play on nine of Padre's holes?

It's a factor on all four par fives, especially nine and eighteen, where the greens are surrounded on three sides by water which may suck up shots that wander close to the edges. Some say eighteen is the best water hole in Arizona. In addition to the memorable fives, Padre offers a great mix of par fours. Most are medium to long, requiring some power, but there is also a delightful quartet of short, devilish par fours (2,12,14 and 16) that require sharp thinking and strategy. They may appear easy from the tee box, but accuracy is required and will be rewarded.

The fairways are over seeded Rye grass, presenting us with the lush green fairways we have come to expect in Arizona in winter. The Bermuda greens, however, are basic brown. Starting two years ago, the Camelback Golf Club decided not to over seed its greens. If you like smooth putting surfaces, you're in for a treat. I believe these greens are much healthier and putt better because they are not over seeded. I think you'll agree.

The Padre course is quite walkable, and excellent pushcarts are available at no charge. The management encourages walking, which is not only unusual in Arizona, but admirable too.

Camelback Golf Club is owned and operated by Marriott and is affiliated with the Marriott Camelback Resort nearby. Very attractive stay and play packages are available for the two championship courses, The Padre and the new El Ambiente. If you were here 15 or 20 years ago, you won't recognize this facility. From the courses to the $16 million renovation of the 36,000-square-foot clubhouse, it has been hugely upgraded. You might just enjoy the après golf as much as you enjoyed your round.

If you go:
www.camelbackgolf.com
480-596-7050
Fees range from $165.00 during the winter season to $65 in the summer, but bargains can often be found on their online booking website.
Revised: 02/07/2014 - Article Viewed 31,644 Times - View Course Profile

About: Larry Berle
---

A Golfer's Dream is Larry Berle's first book. In his previous career, Larry owned SRO Productions in Minneapolis, Minnesota; a company specialized in concert promotion, event management, and CD compilations for radio stations. He worked with many artists, including Andy Williams, Tony Bennett, George Winston, Yanni, B.B. King, James Taylor, Bill Cosby, and Sinbad. After 31 years in the business, Larry sold SRO in 2004. He still produces small theatrical plays occasionally but spends most of his time playing, and writing about, golf.

Larry was introduced to the game by his wife Annie in 1990 and has been an avid fan and player ever since. Annie took him to Pebble Beach for his birthday in 1992 where the dream to play the Golf Digest Top 100 was born. What is truly amazing about Larry Berle is not only that he achieved his quest but also that he published this book. In June of 2006, with 90 percent of the first draft completed, he suffered near-fatal injuries as a result of a bicycle accident in Minneapolis. He lay in a coma for nearly two weeks and was hospitalized for two months. Larry not only survived but made a full recovery and regained his fabled drive and ability to concentrate. After months of therapy, he was able to complete and publish A Golfer's Dream, a testament to his remarkable achievements in golf and in life. A slightly above-average golfer (handicap index of 11.9), Larry has no handicap in networking and is not afraid to ask for help, especially when it comes to playing Top 100 golf courses.

---
More Articles by Larry Berle