---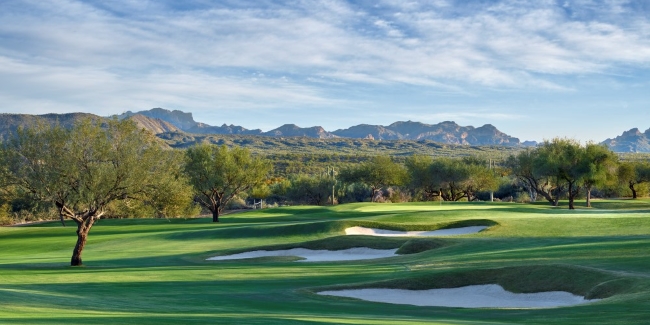 Rio Verde Attains Sustainable Community Certification from Audubon International

Rio Verde Community – the award-winning resort style residential development northeast of Scottsdale – was designated a Certified Sustainable Community by the Audubon International Sustainable Communities program after completing the organization's requirements and meeting its strict criteria.

The designation, which was awarded April 15, makes Rio Verde the first Certified Sustainable Community west of the Mississippi River and fifth overall in the U.S. Boasting 735 acres of desert wildflowers, cacti and abundant wildlife that accent its residential areas and amenities, Rio Verde achieved certification by developing and implementing management practices and policies according to a community-driven Long Term Sustainability Plan (LTSP).

The LTSP included timelines and measurable goals addressing 15 focus areas, including wildlife conservation and habitat enhancement, water conservation, energy efficiency, health and transportation. Receiving designation as an Audubon International Certified Sustainable Community is contingent upon the quality and completeness of the LTSP and its implementation.

Among the implemented accomplishments at Rio Verde:

* Solar panels installed on the community center serve 25 percent of the building's average energy demand, resulting in more than 250,000 kWh (and over $28,000) saved annually.

* Fifteen acres of turf on the golf courses were naturalized to desert landscaping, reducing water and maintenance requirements.

* More than 3 tons of citrus from residents' trees annually donated to local food banks.

* The creation of a native plant landscaping palette for the Country Club and Community.

* An annual educational event held on practices and products for living green, which drew more than 100 residents.

"Rio Verde Community residents have worked enthusiastically to shape our community within the guidelines established by Audubon International," notes Gary Holcomb, President of the Community Association. "Our focus on preservation, conservation and sustainability will certainly benefit our current residents as well as those who will follow in their footsteps. We look forward to a long-term partnership with Audubon International."

Tabbed "the No. 1 "Private Golf Course" and "Active Adult Community" by Ranking Arizona: the Best of Arizona Business, Rio Verde joins Eufaula, Ala,. Williamston, N.C., Coconut Creek, Fla., and Stowe Mountain Resort, Vt. as Audubon International Certified Sustainable Communities.

For more information about Rio Verde, call 877.746.8373.


Posted May 14, 2015 || Viewed 3,438 times || View Course Profile
Share Comment