Share:
---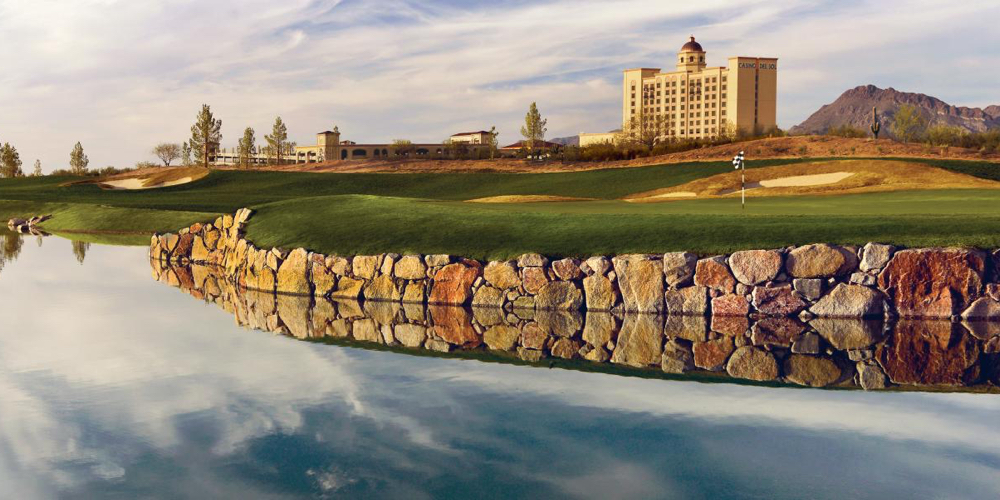 Sewailo Golf Club Review
The First Twelve Months
By Greg Miles
In December 2013, the tribal council of the Pascua Yaqui nation said "A-See-Wa-May" which means "welcome" to golfers coming to play some of the first rounds at their Sewailo Golf Club in Tucson, AZ. And now, 12 months later, golfers are saying "Happy Anniversary" to Sewailo Golf Club and the Pascua Yaqui nation. Since the traditional first anniversary-wedding gift is 'paper', here on paper are the straightforward facts about Sewailo Golf Club.

Location: Tucson, AZ -- on the grounds of the Casino del Sol resort casino

Directions: 9 miles directly west of Tucson International Airport

Par: 72 (36-36 / 72)

Sets of Tees: 5 (with 2 optional combinations)

Yardages / Ratings / Slopes:
Bear Down -- 7283 / 73.5 / 138
Ruby -- 6741 / 71.2 / 131
Jade -- 6341 / 70.0 / 124
Opal (M) -- 5861 / 66.8 / 115
Opal (L) --5861 / 72.6 / 138
Copper (L) -- 5209 / 69.6 / 123

Architect: Notah Begay III

Opening Day: December 12, 2013

Managed by: Troon Golf

Average / target playing time: 4h 26m

Green Fee: Dynamic pricing -- varies by season and time

While Tucson, AZ and the immediate surrounding area are part of the Sonoran Desert, the Sewailo Golf Club is a desert style golf course but not a Sonoran style desert golf course. What is absent at Sewailo are the saguaro cacti, jagged rocks, and palo verde and mesquite trees that typify the Sonoran style. Present at Sewailo, making it desert style, are 30,000 flowering desert plants and plenty of 'out-of-play' crushed sandy areas. Also present at Sewailo are seven lakes and more than one mile of clear, narrow flowing stream water, which provides a refreshing look and feeling and at the same time adds the possibility of many one-stroke penalties. Sewailo golfers will surely remember these lakes and possible penalties that are part of the par-3, #3, stone walled peninsula green, and the entire right side of the par-4, #18, finishing hole, with waterfall backdrop.

Golfers might alternatively say "Happy Birthday, One Year-Old" to Sewailo Golf Club. While being just one year old, the course has taken more than just baby steps towards becoming a mature facility. During the past twelve months the course has seen construction of its new clubhouse and paved parking lot for 100+ cars. Now, with one year of grow-in time completed, the 30,000 desert plants are now blooming (in season) and add amazing color to the desert sands. Also, soon after its opening, Sewailo Golf Club was chosen by the University of Arizona to be the home course for men's and women's golf teams.

Further amenities at Sewailo Golf Club are its three conveniently located practice areas, a 24-station grass driving range, a practice putting green, and a bunker / chipping area with target green. The green fee at Sewailo includes covered riding cart with on board GPS computer screen. The screen is placed at waist-high sitting level -- no strained necks having to keep looking up at a raised screen. The GPS system is the DSG-TAG touch screen, which immediately shows any lay-up or needed-to-clear distances you may desire. This touch screen distance finder will certainly be needed as Notah's design of Sewailo tempts golfers over and over with risk / reward challenges. Complimentary shuttle service for the 3/10th mile distance to the Sewailo clubhouse is provided for golfers who are staying at the Casino del Sol Resort/Casino.

Troon Golf, the staff of Sewailo Golf Club, and the Pascua Yaqui tribe were pleased that in the first twelve months of operation the course hosted over 26,000 rounds, and hope for more during its second twelve months. Not to worry: even if played during peak season or on busy days, the tee-time spacing at Sewailo is 10-minute intervals and the average playing time is 4 hours twenty-six minutes, which leaves plenty of time for gambling or a leisurely dinner at the adjacent four-star and four-diamond Casino del Sol.

Contact Info:
www.sewailogolfclub.com
5655 W. Valencia Rd.,
Tucson, AZ 85757
1-520-838-6623 or 1-855-SOL-STAY

Revised: 01/07/2015 - Article Viewed 20,630 Times - View Golf Course Profile
Share Comment
Written By: Greg Miles

Greg Miles is Senior Writer for GolfChicago! Magazine and resides in Lake County, IL. He has been a golf writer for 21 years, and a member of the Golf Writers Association of America for the past 17 years. A graduate of the University of Notre Dame and Marquette University, he has played more than 5,500 rounds of golf in his life at 462 different courses; enjoys collecting golf memorabilia and is a Golf Nut Society member.