Share:
---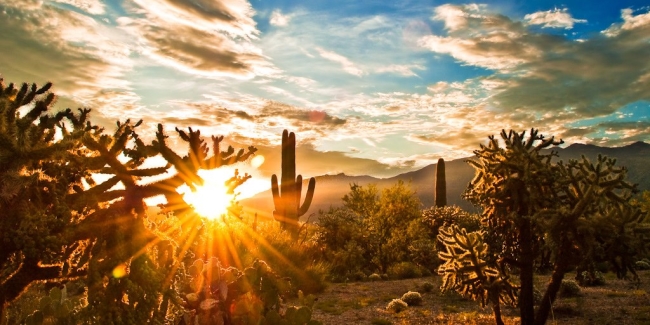 Visit Mesa Launches Destination Brand
Mesa City Limitless

Visit Mesa officials unveiled their long-awaited new brand, Mesa City Limitless to better convey to visitors the limitless opportunities in Mesa and the surrounding region. Mesa, Arizona is the third-largest city in the state and Visit Mesa represents one of fastest growing travel destinations in the U.S.

Visit Mesa has undergone an incredible amount of change at the direction of President and CEO Marc Garcia over the past year. In addition to a name change, the marketing organization has been engaged in a six-month rebranding makeover highlighting the unique visitor products in Mesa.

The brand, Mesa City Limitless, is emblemized in a new logo with directional arrows expressing a dynamic destination that knows no bounds. "Mesa needs to be on the radar for anyone booking travel to the Southwest," said Visit Mesa President and CEO Marc Garcia. "Our new position highlights the sheer array of diverse travel experiences in our region in addition to our core drivers. As one of the largest cities in the West at almost a half-million residents, our marketing efforts are now matching the national attention our city has garnered over the past few years."

In addition, Visit Mesa unveiled the new Mesa Visitors Center this summer offering a variety of ways for locals hosting friends and family and in-bound visitors to get information on golf courses, hotels, restaurants, attractions and more. The newest addition is the Moncierge, an interactive touch-screen that allow guests to create a tailored tour itinerary complete with directions and send the document directly to their smart phone or tablet. The Mesa Visitors Center is also equipped with an interactive iPad, printed brochures and maps for touring Mesa and other parts of Arizona.

"The amount of private and public investment in Mesa is overwhelming and overdue," said Visit Mesa Board Chair Gary Levine. "Mesa has always been regarded as an economic force in the Phoenix-marketplace."

Surrounded by the Tonto National Forest, Mesa is a gateway city to outdoor adventure and recreation and is setting a fast pace as a leading travel destination in the Southwest. Mesa is the only Arizona city that boasts access to two commercial airports within 15 minutes of its downtown core. The area is home to some 40+ golf courses, many of them award-winning and featuring renowned designers and challenging layouts. Additionally, the city is in the throes of a Metro Light Rail expansion that will soon connect Phoenix visitors to Mesa's downtown arts and entertainment district. In March 2014, Mesa will unveil a newly-constructed $99 million-dollar Chicago Cubs stadium sports and recreation complex to the legions of spring training fans that flock to Arizona to enjoy the Cactus League.

Posted September 7, 2013 || Viewed 2,210 times
Share Comment
Like Us For Local News and Specials